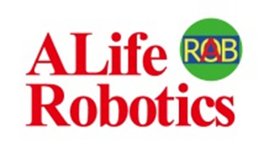 All Proceedings of the Conference on Artifical Life and Robotics (ICAROB)(from ICAROB1996 to ICAROB2019), 24 Volumes) are
looked by using user name and password. (If you want to look up, please send email to ICAROB Office (icarob@alife-robotics.co.jp)..


ICAROB2019
ICAROB2018
ICAROB2017
ICAROB2016

ICAROB2004-vol.1
ICAROB2004-vol.2
ICAROB2003-vol.1
ICAROB2003-vol.2
ICAROB2002-vol.1
ICAROB2002-vol.2
ICAROB2001-vol.1
ICAROB2001-vol.2
ICAROB2000-vol.1
ICAROB2000-vol.2
ICAROB1999-vol.1
ICAROB1999-vol.2
ICAROB1998-vol.1
ICAROB1998-vol.2
ICAROB1997
ICAROB1996



ICAROB 2019

Program
Time Table
Plenary Speakers

Best Paper Awards
SSL Certificates
ALife Robotics
Corporation Ltd.

Company Guide


The company was founded in 2008/04/18 to strive toward Challenge for New Technologies in 21st Century
ICAROB

News: ICAROB2018 was selected for coverage and indexed by CPCI in Dec. 2018

All ICAROB(from ICAROB1996 to ICAROB2019, 24 Volumes) Proceedings in left hand side of this web are looked up by using username and password. If you want look up, please send email to ICAROB Office (icarob@alife-robotics.co.jp)




The 2020 International Conference on Artificial ALife and Robotics(ICAROB 2020)-AROB 25th Anniversary-
Letter Asking for Organizing Sessions ICAROB2020

B-Con Plaza Coference Place (B1F, 3F)



Jan. 9 to 12, 2020
B-Con Plaza, Beppu, Oita, JAPAN
International Conference on Artificial Life and Robotics(ICAROB) is peer reviewed by 3 reviewers of Editortal Boad and only hight academic quality papers will be published in the proceedings shown in ICAROB Didicated Website for Peer Review

ICAROB2020,2021,... will be same as ICAROB2019 DWR

ICAROB 2019 Didicated Website for Review
Serial conferences o

f ICAROB

is

ISSN 2188-7829; ISSN-L 2188-7829


that has been confirmed by the ISSN International Centre

ICAROB2018 DOIs List

Important Date

ICAROB2020 Call for Papers

You have to submit abstracts and papers for peer-reviewing until 2019/10/15

ICAROB2020 Authors Kits



Welcome Party(Hotel Shiragiku)(20/02/2020 pm 17:30〜pm 19:30)
Farewell Party(B-Con Plaza)(23/02/2020 pm 13:

55〜14:15)


Map of B-Con Plaza






Hotel Reservation for ICAROB2020





The papers in the proceedings of ICAROB are peer-reviewed & very high scientific value. If publishing a journals, it will be selected as high academic quality papers among other journal.

Presentation time of PS: 60 minutus including Q & A time
Presentation time of IS: 30 minutus including Q & A time

Presentation time of GS & OS & TS: 15 minutus including Q & A time



JRNAL's System Daigram of Peer Review


Some of academic high quality papers presented at ICAROB will be submitted to Int. Journal

for Robotics, Networking and Artificial Life (JRNAL)

Review Form & Letter of Acceptance

JoURNAL Contribution Fee Form

Submit JRNAL Paper


ICAROB related to The 4P Factory e-laboratory


http://alife-robotics.co.jp/
mail address: icarob@alife-robotics.co.jp



ALife Robotics Corporation Ltd.(AROB)-A Publication Ethics and Publication Malpractice Statement)-

AROB COMMITTEE ON PUBLICATION ETHICS



(c)2008 Copyright The Regents of ALife Robotics Corporation Ltd. All Rights Reserved.