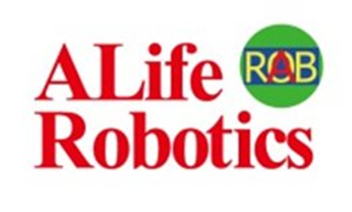 All Proceedings of the Conference on Artifical Life and Robotics (ICAROB)(from ICAROB1996 to ICAROB2018, 23 Volumes) are
looked by using user name and password. (If you want to look up, please send email to ICAROB Office (icarob@alife-robotics.co.jp).


ICAROB2018
ICAROB2017
ICAROB2016
ICAROB2005
ICAROB2004-vol.1
ICAROB2004-vol.2
ICAROB2003-vol.1
ICAROB2003-vol.2
ICAROB2002-vol.1
ICAROB2002-vol.2
ICAROB2001-vol.1
ICAROB2001-vol.2
ICAROB2000-vol.1
ICAROB2000-vol.2
ICAROB1999-vol.1
ICAROB1999-vol.2
ICAROB1998-vol.1
ICAROB1998-vol.2
ICAROB1997
ICAROB1996



ICAROB 2018
Program
Time Table
Plenary & Invited Speakers

Young Author Awards


ALife Robotics
Corporation Ltd.

会社概要



21世紀への新しい科学技術へのChallengeを目指して2008年4月18日に設立された会社です。

ICAROB


News: ICAROB2017 was selected for coverage and indexed in CPCI at July, 2017.



All ICAROB(from ICAROB1996 to ICAROB2018, 23 Volumes) Proceedings
in left hand side of this web are looked up by using username and password. If you want look up, please send email to ICAROB Office (icarob@alife-robotics.co.jp)




The 2019 International Conference on Artificial ALife and Robotics
AROB 24th Anniversary (ICAROB 2019)
Letter Asking for Organizing Sessions ICAROB2019

B-Con Plaza Coference Place (B1F, 3F)
Welcome Party(Hotel Shiragiku)(10/01/2019 pm 17:30〜pm 19:30)

Farewell Party(B-Con Plaza)(13/01/2019 pm 16:
45〜17:15)
Map of B-Con Plaza
ICAROB 2019 Call for Papers
ICAROB2019 Plennary Speakers